We're excited to introduce you to Mal Owen, our Chief Operating Officer. When we first met and began working with Mal, we were impressed by his vision for 123JUNK that exceeds what we thought we could hope for as a junk removal company. He's helped us to see our company in a more elevated mindset, and every day his leadership guides us towards an even stronger future. Meet Mal Owen…
What is your role at 123JUNK?
My role is to coordinate the day-to-day operations of our different departments, while also working with our CEO, Collin Wheeler, to create our strategic plan and vision for the organization. We're both committed to improving our infrastructure and growing our team members to better live our value of "Culture of Excellence."
When did you join 123JUNK?
I officially started on July 1, 2020, as COO. I joke with my friends – and the 123JUNK team – that I've been interviewing for six years for this position! I met the company's founder, Collin, at a Chamber of Commerce meeting. Since that first meeting, I have done several, multiple-month consulting engagements with 123JUNK working with Collin and his management team. Collin had built a great company, but he realized he could benefit from more of my time to provide the catalyst for growth. Thankfully, we worked so well together that it was a pretty easy decision for both of us.
What did you do before?
Just prior to joining 123JUNK, I was helping launch a startup in the executive search and management consulting fields. Before that, I had the opportunity to be the COO for a non-profit in the arts industry. For someone who didn't grow up with family members working corporate jobs, I became the consummate learner when I helped found two companies following my departure from academia. I was trained as a researcher and educator in exercise physiology, culminating with a Ph.D. degree and doing a post-doctoral fellowship in physiology research within a medical school. I left that world to start two companies in the health/wellness industry with a business partner. Since that first start, I've learned a lot about running companies and becoming a successful manager/leader.
What convinced you to join the team?
Collin's interest in understanding how he can find resources to help him lead and grow his company resonated with me because that's what I was doing as a business consultant. We have a lot of common values and beliefs, and I like his willingness to embrace outside perspectives.
One of the reasons I came on board was because I recognized the incredible potential here. I saw that there were things that we can put into place that will have an impact and open doors to growth. If I walked into an organization that was moving along on all cylinders, I'd be bored. But when you see opportunities for improvement in an organization, it's like the challenge of running up a hill. I will always attack the hill. By reframing a team's perspective and bringing in best practices, I can see exciting growth in 123JUNK's future.
What do you most enjoy about your work?
Growing up, I loved sports. At age 15, I was an avid tennis player and started volunteering at a local community tennis program. By age 16, I was running the entire tennis program for the county. Early on, I developed the ability to look at "picture books" for my sports and then mirror that movement or capability. I got good at visualizing the movement, breaking it down, and replicating it to improve my skill. That's where I got the passion to help other people succeed—it started with the fun of teaching sports to others and then translated into a passion for developing coaching others in the workplace. I love helping others accomplish more than that thought they could.
What is your favorite part about 123JUNK?
It's the day-to-day energy and enthusiasm of the team and their interest in both their own and the company's prospects for growth.
What is your favorite memory of the company so far?
The onboarding experience that happened when I joined full-time last July. I was so impressed by the warm welcome I received, which included a "welcome aboard" package shipped to me in Arizona. Besides some logowear and business cards, I received a wonderful welcome card signed by everyone and a gift certificate for a local sushi restaurant (my favorite food). The thoughtfulness I received was incredible and special. It was the single-best onboarding experience I've ever had. It reinforced for me that the decision to join 123JUNK was the right one.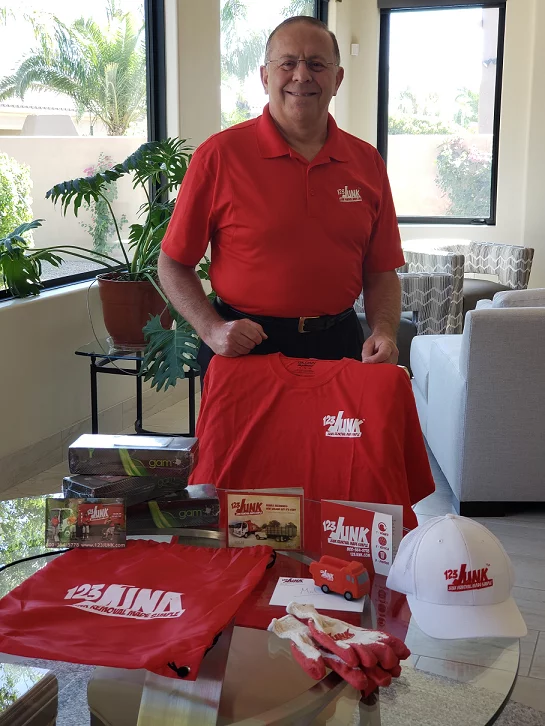 What advice would you have for young folks looking for work or experience?
Have a commitment and a thirst for learning. As a learning organization I want to be able to attract and bring in employees who are interested in their own growth, and those who want to be successful. I like to see a "give me more" attitude. Go to your manager and ask "How can I be the best [your job title] you've ever worked with in that role?" Find out what they think a top performer will do. Then ask, "What are the most important things to work on?" Drive that conversation with your supervisor instead of just reporting to duty and waiting to be told what to do. A truly valuable employee learns how we do things, thinks critically and can make decisions. You want to enable that employee to take the reins.
What do you like to do when you're not working?
I like spending time with my wife, Judy Smith. She's an amazing woman: my best friend, companion and a very successful and smart businesswoman. It's the best part of my personal life. I also enjoy cycling classes, which we do together, and I'm an avid squash player.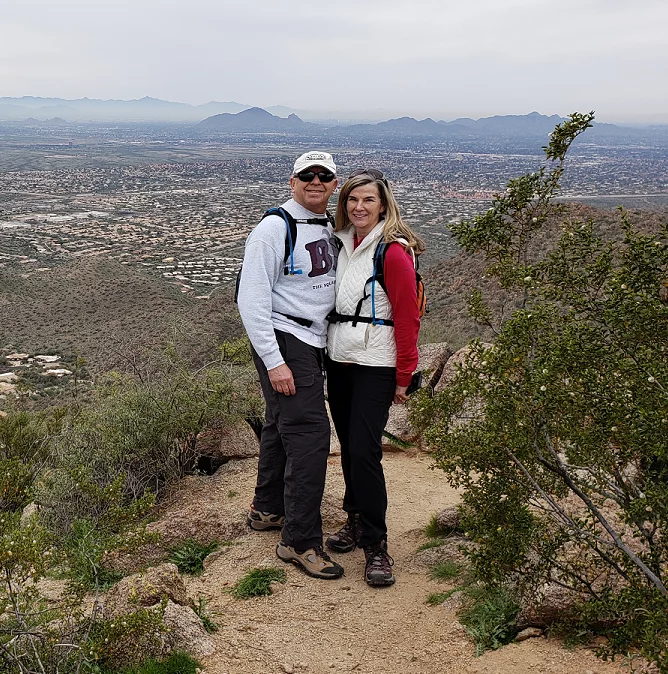 What is your favorite quote?
I have so many quotes that I use to help guide my approach to managing and leading that it's tough to pick one. As an avid believer of the importance of emotional intelligence for leaders, I guess I'd pick this quote as one of my favorites: "Seek first to understand, then to be understood."
123JUNK is More than Just Junk Removal
We have a vision for our company that places 123JUNK among the thought leaders in the junk removal industry. From our hiring and training practices, to our exceptional customer service, to our three-pronged mission of donate-recycle-dispose, you'll notice the 123JUNK difference.
To schedule a residential or commercial junk pick-up in one of our service areas in Northern Virginia or Maryland, contact 123JUNK.