When we started in 2008, Sterling, Virginia was the first home for 123JUNK. We're proud of our beginnings here and, since that time, have continued to serve the needs of homes and businesses in Sterling Park, Potomac Falls as well as the other residential communities in this bustling area of Northern Virginia.
What do Sterling residents like best about 123JUNK?
According to one Sterling resident, "The main reason I recommend 123JUNK to all my friends and family is their professional process." He went on to explain, "After they carefully remove the junk and unwanted items from someone's property, they follow a strict formula of donating what can be re-used, recycling what they can and disposing of the rest. This not only helps our community but keeps the load to our landfill here in Loudoun County a lot smaller!"
We couldn't have said it better! Donate – Recycle – Dispose: That's the way it's always been done. It's as easy as 123JUNK!
Whether your load is big or small, we can do it all
Our fleet of trucks and trained workers can handle any job from a single item to large or multiple loads. We will remove furniture items, such as couches, chairs, recliners, tables, TV's, as well as large and small appliances. We can also haul away your trash, rubbish or yard debris that can accumulate over time.
If you have a retail space, office or commercial business located in Loudoun, let 123JUNK take care of all your junk removal services. We are qualified to dispose of work stations, light machinery, computers and other electronic equipment, such as monitors, printers and copiers.
We believe in supporting our charity partners and local businesses
Our local charity partners, such as Loudoun's Habitat for Humanity ReStore, have helped us place a large number of unwanted items into the hands of those who can use them. We also work with other local partners such as the Salvation Army and Northern Virginia Family Services.
As a member of the Loudoun County Chamber of Commerce, we are always eager to support the growth and development of local businesses. When someone chooses 123JUNK, they are doing the same thing. We are homegrown and home-owned.
For all your trash removal and hauling service needs, call 123JUNK
Whether you have a residence, retail store or a commercial business in the Sterling area, let 123JUNK take care of all your junk removal or hauling needs. We are at your service!
Remember, we also offer foreclosure cleanup and cleanout services. We'll assign one or more of our uniformed staff to assist you in lifting and moving heavy items or performing other manual labor. Contact us to schedule a labor-only project.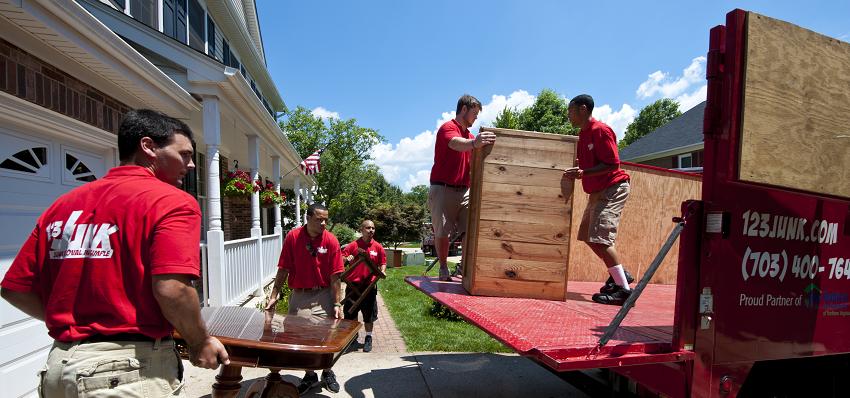 You can call at at 703-400-7645 or email us today for a free estimate and your junk could be gone tomorrow!