Falls Church, Virginia is a beautiful and historic independent city located in the Northeastern corner of Fairfax County. An active area for commerce and family life since the 1600's, business owners and residents know to call 123JUNK to provide junk removal and trash hauling services.
The shiny red trucks of 123JUNK are often spotted on the streets of Falls Church, removing waste and unwanted items quickly and efficiently from the homes, stores and office buildings in the area.
Hauling away your trash is as easy as 1-2-3
After your junk and unwanted items are removed, 123JUNK employs our same environmentally friendly process to each load.
First, we look for items we can donate to charity, such as the Northern Virginia Family Services location in Falls Church. Other partners include the Good Shepherd Alliance and the Habitat ReStore of Northern Virginia.
Second, from the remaining items, we also identify those pieces that can be recycled. This aids the environment and puts needed resources, such as electronics and metal, back into circulation.
Third, we dispose, safely and carefully of everything else at one of the Fairfax County disposal facilities.
Big Loads or Small, We Haul it All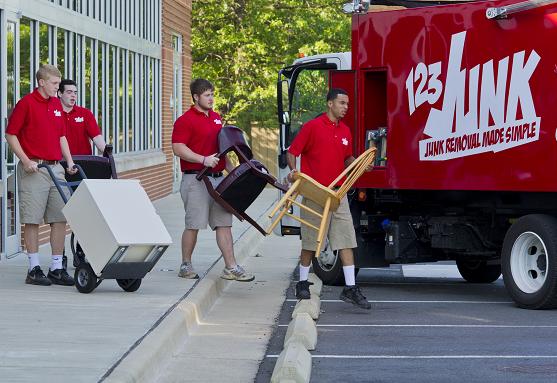 Our fleet has some of the largest trucks in the junk removal industry and multiple loads from your home or place of business are no problem at all. Our trained and uniformed professionals know how to get the job done quickly and safely.
We are at your service for any needs you may have in waste disposal, including trash, rubbish or yard debris. We can also haul away your unwanted furniture and other household items, such as couches, recliners, chairs, tables, and TV's, as well as large and small appliances.
If you can call us today, your waste could be gone tomorrow!
At 123JUNK, we offer hauling services to retail, business office and other commercial locations
In addition to standard office furniture and light manufacturing machines, we know how to safely dispose of computers, monitors, printers, copiers and other technology equipment. By calling 123JUNK today, you can schedule one or more of our trucks to haul away your unwanted items from your office, retail business or warehouse at a time that is convenient for you.
Falls Church, VA residents and business leaders – let us take care of all your waste removal needs
We know the people of Falls Church take pride in their city and want to do all they can to keep it a clean and beautiful place to live.
In addition to junk removal services, 123JUNK also offers cleanup and cleanout services. You can schedule a labor-only appointment and one or more of our uniformed staff to help you lift and move heavy items or perform other types of manual labor.
Call 123JUNK today to find out how easy it is to remove your trash and unwanted items.