UPDATE: Due to threat from Hurricane Florence, the 2018 Dulles Day Plane Pull and Kid's Truck Pull have been cancelled and will not be rescheduled. More information here.
——-
It's time again to recruit talent for the 2018 Dulles Day Plane Pull and Kid's Truck Pull. Again this year, on Saturday, September 15, 2018, 123JUNK will be providing the big red dump truck for the Kid's Pull event. The event is free to attend and open to the public from 10:30 AM to 4 PM and is held at the Washington Dulles International Airport in Dulles, Virginia.
Pull a 123JUNK Dump Truck
If you have a little one with big muscles, or a kid that wants to help raise money for Special Olympics Virginia, sign them up for the Kid's Pull. They can test their strength on a team to pull one of our 123JUNK dump trucks for 12 feet. It's only $10 per child either registered online or at the event on event day. All kids who register get a commemorative Kid's Pull t-shirt.
And there is so much more for kids to do…
Play in the Kid's Zone
Whether they are competing or not, they can enjoy the Kid's Zone area filled with games, a bounce house, and a dunk tank. Laughter and music fill the day.
Peruse Vintage Planes and Cars
During the Dulles Day Plane Pull, numerous vintage planes and modern aircraft will be available to view up close. Kids can meet the pilots and even climb into the cockpit of selected aircraft to see what it takes to fly a plane.
Elsewhere on the tarmac, classic cars, trucks and motorcycles are on view at the Dulles Day Car & Bike Show presented by GEICO. Gather the family to vote for your favorites in several categories and see who wins the trophies. You can even enter your own unique car into the show. The 19th annual car show will be held from 11:00 AM to 4:00 PM outside the Federal Express Cargo Building at Dulles International Airport.
Pull a Jumbo Jet
Adults can register to pull a 164,000-pound jumbo jet in the Plane Pull. Or come join the 123JUNK pulling team or root for our team as they test their mettle against the Airbus to see how fast we can pull it 12 feet. There are lots of ways to win team prizes.
Bring the Entire Family Out
The Dulles Day Plane Pull festivities are free of charge for anyone who wants to come out and watch or root on a team member. Free parking and free bus service too. The day includes a Run the Runway 5K/10K race and Plane Pull and Kid's Pull competitions, along with food vendors, games, Police K-9 demonstrations, riding fire trucks, exhibits and live music all day long. View the day's schedule.
How Many Kids Does it Take?
So how many kids does it take to pull a 123JUNK dump truck? You're just going to have come out and see for yourself!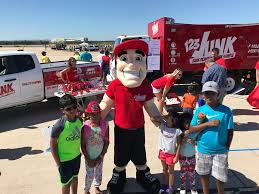 Support 123JUNK and the 2018 Dulles Day Plane Pull
123JUNK is pleased to again participate in the 2018 Dulles Day Plane Pull events by donating a truck, assembling a pulling team and providing volunteers. If you'd like to help, we're always looking for volunteers and donations too to help us reach our goal in raising money for Special Olympics. Donate by contacting 123JUNK today.
Oh, and we haul junk too.