Around here, it's always "safety first." From the first moments on any appointment, safety is the number one priority for our clients, their property, and our team members.
Client Safety
Safety first always applies to the safety of our clients and their property. Our team members are trained in safety measures regarding lifting and transporting items to help our client avoid physical injury from doing it themselves. That's why they call us here at 123JUNK! And although you may want to help us, there's no need. It's our job to clear away the junk you no longer want or need. One of the reasons to call 123JUNK to help haul away a heavy load is to prevent injury to yourself, your family or friends. Since we're trained in the proper procedures, let us do the heavy work for you.
We also pay attention to the safety of your home or office, and your belongings. We take great care to avoid damaging your walls and floors, paying especial attention to corners. We pad surfaces to avoid scratches and bumps. We also respect the items you are donating and take care to safely load and transport them to our donation partners where they can be re-introduced into the community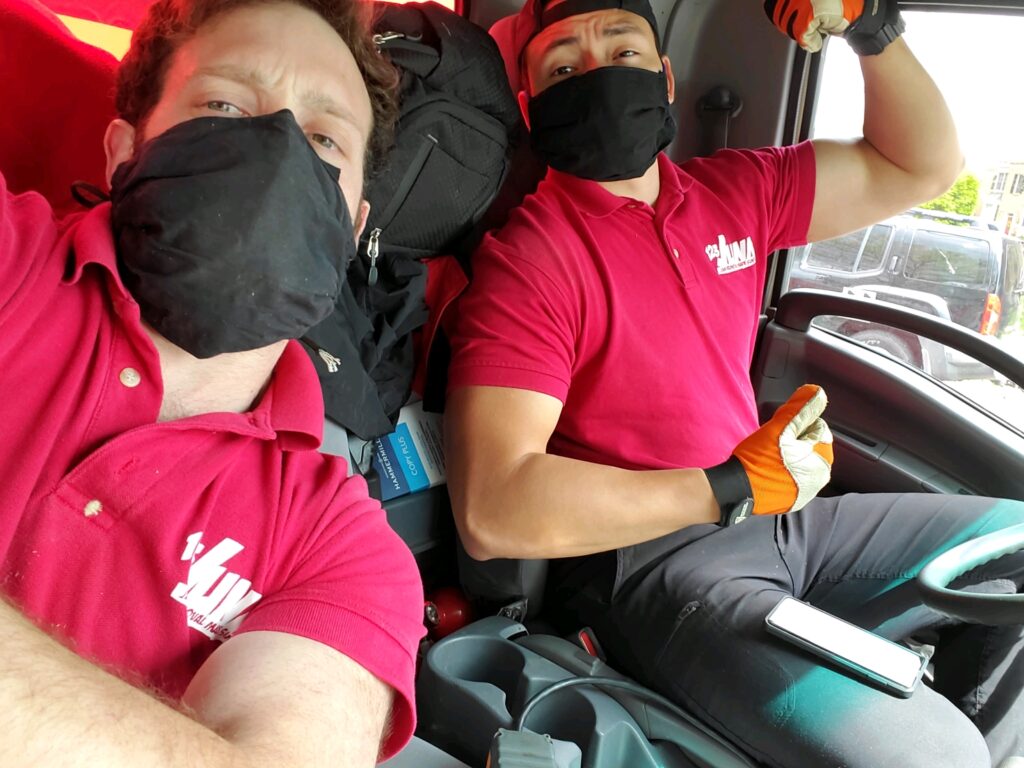 Team Safety from Physical Injury
The teams on our trucks are required to lift heavy objects, a task that could be hazardous to their physical safety if not done correctly. That's where training in proper lifting techniques comes into play. We teach our team members to prepare for heavy loads, asking them to think about how best to lift and maneuver objects like pianos, sofas and refrigerators. We look ahead to the pathway to clear any obstacles, prepare for steps up or down, and talk about proper body position. Lifting, carrying, and even setting down a heavy load can tax the body in different ways. Working together with their teammates is the best way to avoid physical injury from heavy loads.
Safety First from Biohazards
Biohazards are any biological material that can cause a risk to human or animal health. Some of the biohazards we could potentially come into contact with at 123JUNK include blood and bodily fluids, human or animal waste, mold and fungus spores, and industrial chemicals. Biohazards can also include viruses, toxins or things like E.coli, HIV and tuberculosis.
If we encounter a biohazard that we are not equipped to deal with, we may refuse the job. The safety of our workers is too important to us to expose them. We may need to recommend another professional to handle the job of cleaning or clearing a home or items that present a biohazard.
Safety First from Infestations
Animal and insect infestations can post another safety threat for the 123JUNK team. In addition to the biohazards of animal waste and dead carcasses, insects like bedbugs can create an unsafe haul. We don't want to carry insects back to our offices or team members' homes, nor do we want to introduce them into client homes or our donation partners' facilities. (Read our blog post on Bedbugs and Junk Hauling). There are proper ways to dispose of items exposed to infestations, and we may again refuse the pickup and recommend other professionals who can help with your particular issue.
Safety First from Hazardous Materials
There are certain items that we cannot take in a general junk haul; items that need to be handled individually to prevent biohazards. We don't want these chemicals to spill into our trucks to contaminate other items, and potentially spill out onto roadways. Nor do we want to expose our team members to environmental hazards. Items like paint, kerosene, gasoline, fertilizer, pool chemicals, ammonia, bleach, antifreeze, mercury-containing fluorescent light bults, freon coolant and just some of the items we must avoid. 123JUNK is even prevented by law from hauling many hazardous materials. These items must be disposed of at appropriate waste collection stations. (Learn more in our blog post What's on the Hazardous Materials List?)
Safety is something we're not willing to take a risk with, and we apologize in advance to any customers for any inconvenience. It only happens rarely because we prepare our clients and our team members so well. We just want you to get the best service possible, with the safety of all in mind.
Ready to Schedule Junk Removal with 123JUNK?
When you're ready to schedule your junk removal in Northern Virginia, Washington DC or Maryland, contact 123JUNK.