Meet our Partner – Christina Bond, owner of Creating Space DC
We'd like to introduce you to another great partner of 123JUNK. In this post, you'll meet an organizing expert who helps homeowners declutter and keep only those items that "spark joy" utilizing Marie Kondo's KonMari Method.
Tell us about what you do at Creating Space DC.
I help people declutter. I'm called a professional organizer, but if people that call me don't say anything about needing to declutter first, before we organize, then I refer them to one of my organizing colleagues. My passion is helping my clients take a fresh look at what they have, where the clutter builds up, and why it is still there. Hopefully, we get some insights into why the clutter accumulated in the first place, which is a long-term solution rather than a quick fix. I am certified by Marie Kondo's organization to coach people through the KonMari Method.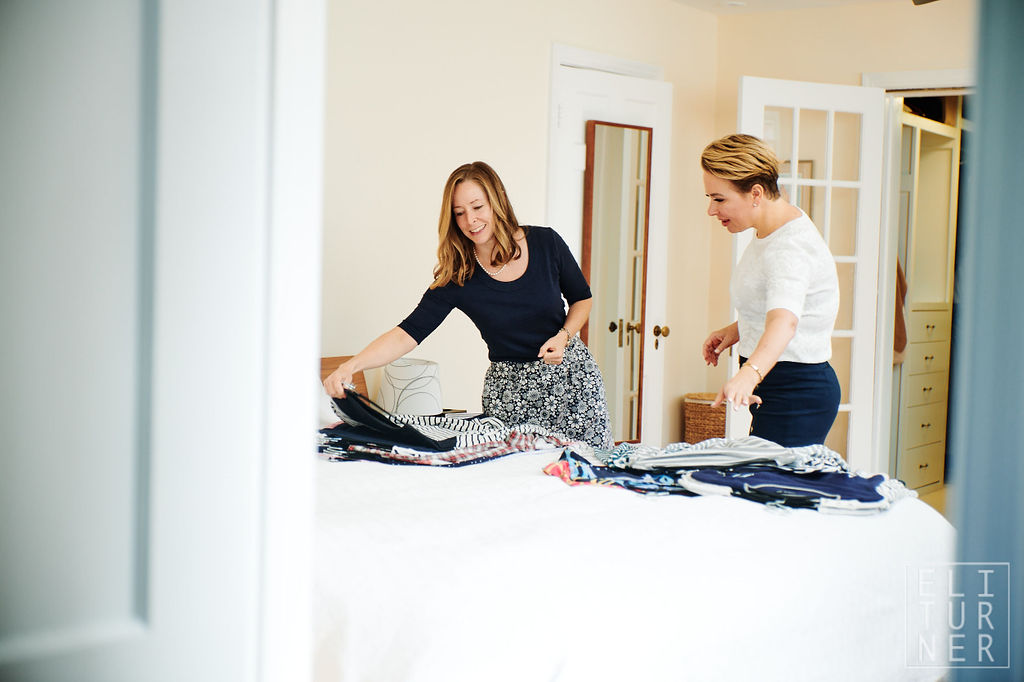 What is your background?
I was in the Navy and attended the Naval Academy in Annapolis, after which I served on a cruiser and an aircraft carrier. With Creating Space DC, I'm a Certified KonMari Master Consultant. To earn my certification, I took a three-day training in person, and after the training session we had to submit reports on practice clients for at least 30 hours until the organization felt satisfied that we were staying true to the KonMari Method. Then, I had a written test and an interview. I continue to submit reports and moved up through the certification levels, based on the number of hours put into teaching the KonMari Method. I now have more than 1,500 hours in client sessions to date.
How did you get interested in this business?
My interest started with the KonMari Method. I heard about it on Facebook from a friend who posted a picture of her stuff going out the door. Then I read Marie Kondo's book The Life-Changing Magic of Tidying Up in the airport on the way home from a yoga retreat. It was powerful for me. By the time I arrived home, I had a few pages of notes full of things I wanted to get out of my house, so I did the process on my own home. I loved it so much that I created my own business helping other people through the method. I'm also interested in Japanese culture having lived in Japan and studying there in high school.
Did you have any insights when decluttering your own home?
I actually got stuck partway through the KonMari Method in the paper category. I wished I had a coach to help me through that. I ended up getting through it because I signed up for Marie Kondo's training and had to complete my own tidying marathon.
What is the KonMari Method?
There are two things that distinguish the KonMari Method from other organizing methods. First is the idea of sorting and organizing by category and not by location. It's not "I need help with the basement." Rather, you look at categories, like books, clothes, and papers, for example. Once you start pulling the categories together, storage areas eventually get resolved. The second distinguishing characteristic is the very simple decision-making criteria: Does it spark joy? I have people touch each item and then ask themselves, "Does it lift my energy, or do I feel 'ugh' about it?" Then I start asking questions like "Would you pack it for a vacation?" or "When was the last time you used it?"
Marie Kondo has a particular KonMari folding method. Do you teach that?
Yes. I show my clients how to fold items and put them away using that method, but I don't push that point if they don't want to do it.
Do you help with downsizing?
Sometimes. But if people are thinking about moving, they have to work with me in advance. If they're just about to move, it's too late to do the type of editing we do.
How did you meet 123JUNK?
I joined the local NAPO chapter (National Association of Productivity & Organizing Professionals) where 123JUNK is a business partner. I heard about them at one of the monthly meetings, had a client who needed their services, and I suggested them. When I reached out, I got a great and quick response. They gave me an idea of pricing right away so I could tell my client during our session. The client used them and the job went well.
Do you have a favorite story about 123JUNK?
My client had ordered a lot of things online and had never even taken the items out of the boxes. There were piles of unopened boxes in several different rooms. I helped the client to open the boxes and when we did, there was a lot of cardboard to get rid of. We also decluttered the home and had a pile of both trash and donations. It filled half the garage. When 123JUNK came, they were able to take the cardboard for recycling, the trash and the donations all at one time. 123JUNK is always responsive—I get a quick response, which I appreciate. And after the job, they emailed to thank me for the referral.
What is your favorite part of your business?
I get to see a range of people, and everyone is so different. I love hearing their personal stories. Some people are extremely organized and have just accumulated items over the years and it's time to go through them. Others are very disorganized and have lots of things. I enjoy the feeling of helping them get unstuck, at whatever place they are, and feeling like I've made a difference in moving their lives forward.
What region do you work in?
I live close to Union Station in Washington, DC and I like to work within a 25-mile radius from downtown DC.
What do you do when not working?
I'm passionate about yoga and taught yoga classes for years. I spend time with my family—my husband, my nine-year-old son, and a pandemic puppy. I also like traveling and am planning trips for later this year.
What's one thing you would like people to know about Creating Space DC?
What I do takes a little more time than, say, a team that spends eight hours organizing everything in a house. I work one on one with clients to make decisions about decluttering. They have to be there and engage in the process. I consider this a longer-term solution. It doesn't make sense to me to invest time and money into organizing the clutter nicely just to have it accumulate again. When my clients are engaged in the process themselves they get a chance to confront the underlying cause of the clutter. Because people tend to procrastinate, I'd encourage them to set a date with me, and that will help them get started.