Uh oh, you went to mow the lawn for the first time this year and your mower won't start. It's old and you thought it might be on its last leg last year, so you've decided it's time to get a new mower. What do you do with the old push mower or riding mower? You call 123JUNK for lawn equipment removal.
Lawn Mower and Lawn Equipment Removal
You'll need to mow your lawn at least once a week throughout the warmer months, and you'll want a mower that works. You don't want to have to worry about it breaking down, which, according to Murphy's Law, will happen just when you're trying to get ready to head out of town on vacation. Right?
If you have a large riding mower to remove, you can't just toss it into your trunk and take it away. But we can! We have some of the largest trucks in the industry! We'll also take your push mowers, trimmers, hoes, rakes, and any other lawn equipment or yard tools you no longer use. If any are in good working condition, consider donating them to one of our charitable partners so that someone else can benefit.
Related: 16 Different Types of Lawn Tools
Shed and Garage Cleanout
When it's time to mow, it's frustrating to have to dig through piles of junk in the garage or shed to actually get to the mower—either to take it out or put it away. We can help here too by hauling away items you've stored that you no longer want. Maybe it's old lawn equipment that doesn't work; perhaps it's rusty or there is a piece missing that you just haven't gotten around to replacing. Or sports equipment that you'll never use again. Let us help you make room in your garage or shed for that shiny new riding mower or easy access to the old one!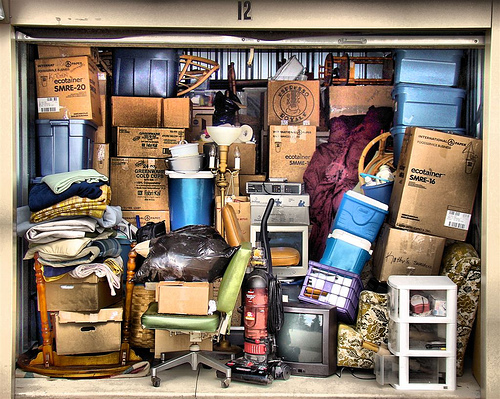 Here are other outdoor things 123JUNK can remove to help get your lawn ready for summer…
Lawn Debris
This time of year is when you clean up the yard for summer activities. You'll trim bushes and branches, pull up weeds, and create a brush pile that is both unsightly and in the way of your lawn maintenance and enjoyment. Don't break your back or spend the weekend loading it into your car and taking it to the dump…let our team haul that yard debris away for you.
Sports Equipment
Do you have an old swingset, sandbox, soccer goals or other large yard toys or sports equipment you don't use any more? Remove them and take back your yard for entertaining and relaxing. Our 123JUNK team will disassemble your equipment and load it into our big red truck. All you have to do is relax!
Hot Tub and Pool
Get rid of that unsightly—and unused—hot tub or above-ground pool easily by contacting 123JUNK. The only thing we need you to do is drain any water from the item ahead of time so that we can easily and quickly tear down and load these items onto the truck.Construction Materials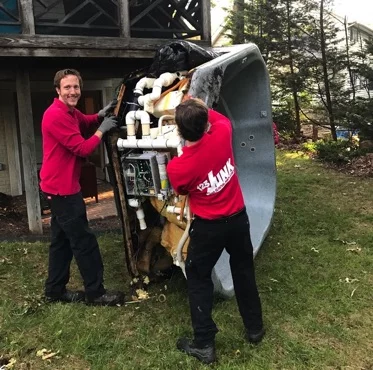 Building a new deck or patio? You may have to tear out the old one and remove it. And there's sure to be some construction debris after the job is done if you're adding a new outdoor feature to your home. Let 123JUNK help you remove wood, stone or other construction materials to help you enjoy your new outdoor living space.
Haul Away Lawn Equipment, Yard Debris, Outdoor Equipment and Entertainment Features, and Construction Debris with 123JUNK
If you live in Northern Virginia, Washington DC or Maryland, let 123JUNK help you get your yard ready for summer fun by removing your unwanted lawn or sports equipment, and other outdoor items. Contact us at 1-800-364-5778 to talk to one of our Customer Success Representatives in person and schedule your junk removal.