Springtime represents a rebirth, a return all things new. The excitement builds from the burst of color from the first spring flowers to the smell of the fresh spring air through open windows. Spring also represents a seasonal uptick in the real estate market as families look for new homes and give in to their itch for new opportunities. That's right…moving season is here.
Moving Season: Staging a Home
If you are looking to sell your home and are working with a Realtor, they are likely to recommend staging your home in order to garner a quicker sale at a higher price. This means clearing out clutter and potentially removing furniture in order to create a more spacious-feeling interior.
Realtors also ask you to remove personal items. Potential buyers need to envision themselves living in the home and don't need to be distracted by your family photos, awards and travel mementos. A clutter-free environment lets them picture their own furnishings and décor in the space.
You'll likely want to decorate your new home in a new style, so take this time to donate your old furniture and unused household goods to a local charity rather than having to store or move them. When thinking about your new home, you probably picture it neat, clean and clutter free, so instead of packing up the old cutter, get rid of it! Make a clean start this moving season!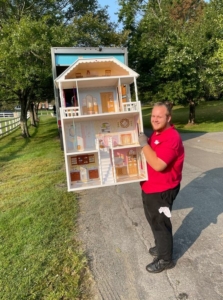 Moving Season: Downsizing
When the kids have left the nest and you're left rattling around in a house that's too big for you, it may be time to think about downsizing. Discard the kids' swingset, toys and leftover bedroom furniture to make room for your new lifestyle in a smaller home.
When downsizing, you'll be living in a smaller, more manageable space, and you don't want to overcrowd it by taking everything from your larger house with you. Look around and see what you no longer use. Take this opportunity to purchase new furniture that would be better-sized for your new home. Take pictures to create a memory book of childhood items, but don't keep the items themselves.
Spring Cleaning
You know what else happens in springtime? Spring cleaning! Homeowners can't wait to open the windows and enjoy outside living again, and the renewal of the seasons often sparks the urge to deep clean the house and yard.
During the months when we're stuck inside, clutter can build up. And after a while, you don't even notice it. You'll be removing items from surfaces and shelves anyway to clean under them, so create several bins marked "donate" or "dispose" and as you remove items, get rid of the ones you don't use any longer. That way it's a one-step process and it's done!
Trim branches and bushes and rake yard debris into one or more piles and let your junk removal company haul it off for you. How easy is that!
Garage and Shed Cleanouts
With spring arriving, you're going to need to access the lawn equipment and tools again, so set aside a day for a garage and shed cleanout in order to make getting to them easier. Dump those rusted tools and mowers that no longer work, and that sporting equipment left over from sports you used to do. Go through boxes that have been stored there for years to see what you can get rid of. That way you'll have more usable space for your cars, bicycles and what these spaces were intended for.
Moving Season and Spring Cleanouts are Easy with 123JUNK
123JUNK helps Realtors and homeowners throughout the Washington DC metropolitan region with moving season and spring cleanouts using our 1-2-3 Process of Donate-Recycle-Dispose. We'll deliver items you want to donate, or divide out perfectly-good items, and deliver them to our local charity partners like A Wider Circle, Habitat for Humanity's ReStore, Passion for Community or the Montgomery County Humane Society. If you'd like, we'll provide you with a receipt for your donation.
We'll also look for recyclables like electronics or old appliances and deliver those directly to the appropriate recycling station. We'll then take what's left over to the area landfill.
Spring is a time for renewal. New living spaces, spring cleaning, and cleanouts give you a fresh outlook for the warm weather to come.
Contact 123JUNK today to schedule your junk hauling or donation appointment.