No doubt, you were probably excited about the furniture you purchased way back when. Especially if it was included in one of the latest design trends. Now that we're in a new century, that furniture may be looking a little dated, so it's out with the outdated furniture décor trends and in with the new.
Design trends change constantly, and choosing one that will stand the test of time can be challenging. Remember shag carpets, wallpaper borders and tiled countertops? Once they were all the rage! So were the items of furniture you couldn't live without that now you should.
Outdated Furniture Décor Trends
Some of the most common pieces of furniture that are now considered outdated include:
Oversized entertainment centers. With the popularity of flat-screen TVs and streaming services, large entertainment centers that were designed to hold tube televisions and other electronics are no longer needed.
Bulky sectional sofas. While some families still enjoy the comfort of a large sectional sofa, your family may no longer need it. Besides, it takes up a lot of space and may be covered in an outdated fabric or color.
Heavy armoires. Once popular for storing clothing and linens, oversized armoires and difficult to design around with today's modern décor styles.
Clunky coffee tables. A heavy, blocky coffee table can make a living room or den feel cluttered and outdated. Consider replacing it with a lighter, more streamlined option.
Traditional china cabinets. Because formal dining is less common, the need for fancy china and china cabinets has waned. If you have one taking up valuable space in your home, consider donating it.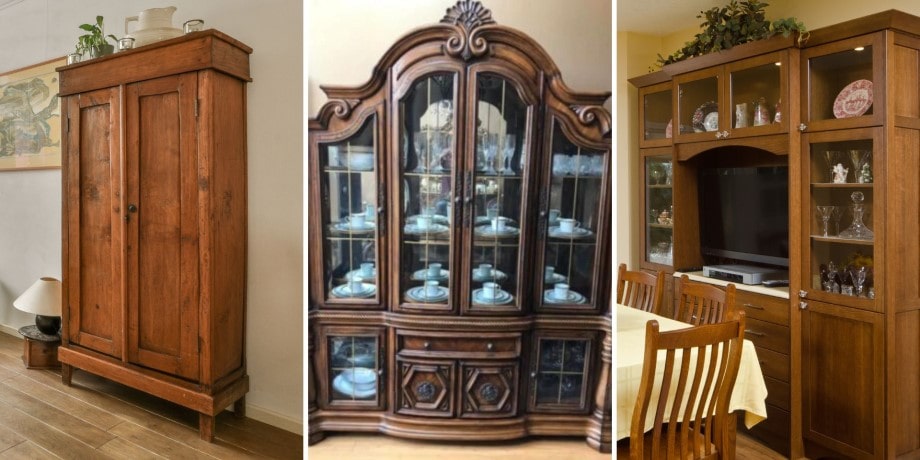 Other outdated décor trends include:
Heavy, ornate furniture with intricate details. This trend has given way to simpler, more streamlined designs.
Matching furniture sets, like a sofa and loveseat. Now is the time to infuse your eclectic and personal style!
Busy patterns. Today's furniture design emphasizes a more understated and minimalistic look, with solid colors or subtle patterns.
Brass and gold accents. While metallic accents are still popular, brass and gold finishes have become outdated. Nowadays, furniture design features muted metals like brushed nickel, copper or matte black.
Related: 10 Interior Design Trends Going Away in 2022
Know the Difference Between Junk Furniture and Antiques
Just because your furniture is old doesn't mean it is a valuable antique. There is a distinct difference. Junk furniture refers to furniture that is no longer functional, useful or in good condition. Or it can refer to furniture of low-quality materials, poor design or simply outdated.
On the other hand, antique furniture refers to furniture considered to be of historical or artistic significance. It is more than 100 years old, and made from high-quality materials with expert craftsmanship and unique design elements. It can be very valuable. Some common types of antique furniture include Victorian-era pieces, Art Nouveau and Art Deco designs, and mid-century modern.
It is important to note that not all old furniture is antique, neither is all furniture that is no longer functional or in good condition necessarily junk furniture. Many factors can influence the value and significance of a piece, including its age, style, design, materials and condition. If you're unsure of a piece's value, consult with an expert.
Let 123JUNK Relieve You of Your Outdated Furniture Décor Trends
One of the best ways to unload outdated furniture is to donate it. That way it can be used to fund some of your community's charitable organizations. With 123JUNK's 1-2-3 Process of Donate-Recycle-Dispose, we'll gladly pick up furniture you no longer want or need and deliver it on your behalf to one of our charity partners. You'll receive a receipt in return for your tax deductions and the good feeling that you've done your bit to help others.
Think of other items besides your furniture that needs to go. We'll take that too! Household goods, clothing, electronics, yard tools—even your old appliances. We'll divide out items for donation and those that can be recycled and deliver them to their appropriate destinations, and take whatever's left over to the landfill.
Take the time to enjoy your uncluttered space and dream about the new décor trends that will soon fill it up! It's fun getting new furniture!
Contact 123JUNK for Furniture Removal in DC, MD, NoVA
When you're ready for your furniture removal, contact 123JUNK at 1-800-364-5778. We work with home and business owners throughout Northern Virginia, Maryland and the Washington, DC metro area.