Helping our community stay comfortable and making the decluttering process easier is a top priority for our team. We have been partnering with a locally owned and family-operated business, Belfort Furniture. Our team has been hauling away unwanted furniture from their customers' homes and making way for new furniture from Belfort. We are delighted to introduce to you their Design Manager, Stefani Arnold. Let's learn more about Stefani and Belfort Furniture below!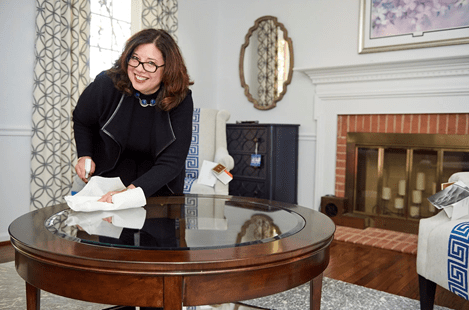 Can you tell us about yourself and your role at Belfort Furniture?
I've been at Belfort Furniture for a little over 20 years now. I started as a part-time sales person, beginning with consultations at clients' homes 19 years ago. I loved doing in-home design and, after a couple of years, I became a full-time senior designer. I took referrals from the sales team and furnished client's homes. And about 10 years ago, I got promoted to Department Manager of the Design Department.
How did you end up partnering with 123JUNK?
They actually approached us a couple of times. When I met them, I thought we would be a perfect match. Oftentimes when clients are deciding on furniture they say, "I have to go home and think about it. I have to figure out how to get rid of my used furniture." Then I tell them to call 123JUNK and they will take care of it!
Over the years, I used to tell clients that they could donate their old furniture to Salvation Army or local thrift stores, but a lot of those places are very picky and won't take your items. Everyone really loves having 123JUNK donate or dispose of their unwanted items so our team at Belfort Furniture can bring in the new furniture.
Can you tell us about a memorable moment with 123JUNK?
I've actually hired them once and was blown away with the team that came to my house. They were very professional and clean-cut. And I honestly didn't expect to see such clean-cut guys coming to take my old junk out of my house.
It was really surprising and, not to mention, impressive seeing them come in with their uniforms ready to haul away my furniture. It also made me feel better recommending a company that I've personally used.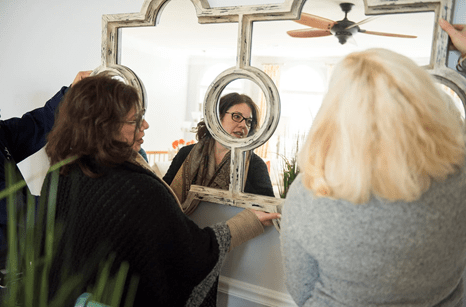 What are your favorite aspects of working in the furniture and home design industry and connecting with people in the way that you do?
It's really rewarding to create an environment where a person can return home and fully relax and enjoy their living spaces. And the best part is that every day is a new scene. Every time I meet a new client, it's a whole new chapter and a whole new story.
I'm also fortunate to work with a really great team of talented individuals. I speak for everyone at Belfort Furniture when I say we work for a truly great company. They are very generous, charitable, and they care about their employees. That's why there are so many people, including me, who have been here for over 10 years. We all joke about how we're growing old together!
In the past, I've worked for corporations where you're just a number. But here, the owner knows you and knows your kids' names. We know him and his wife very well. And they also own Stone Tower Winery in Leesburg, Virginia.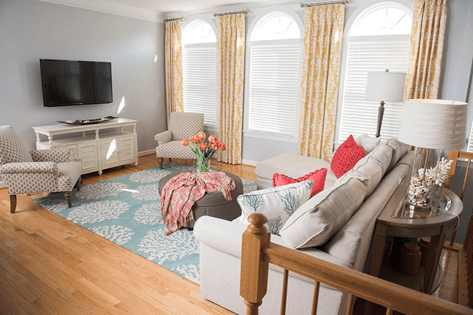 Do you have any quick home design or home improvement advice for people attempting to update their living spaces?
One of my favorite mottos is the more fabrics and textures in a room, the better. Without them, your room designs seem boring. Also, don't forget about window treatments. And if you're going furniture shopping, always bring the measurements of your room. On a regular basis, we find ourselves trying to help clients figure out the measurements of their rooms because they don't know. It can be done if they do a good job describing what they have, but it's never really exact dimensions.
We also have our in-home design service where we will come and measure a customer's space. We also offer presentations where everything is spec'd out for them, fabrics, wood pieces, mugs, accessories and more.
Due to COVID-19, there's a shortage in select fabrics, and upholstery is taking up to six months to be delivered. We're lucky at Belfort Furniture because we have a wide range of stock in our inventory that we can deliver immediately. You just can't customize it as quickly these days, but you can still shop our in-stock inventory!
How can people reach out to you or learn more about Belfort Furniture?
Customers can go to our website or call us to request a design appointment. When COVID-19 happened, we also began offering virtual appointments as well. Shop our in-stock furniture or contact the Belfort Furniture team today!