We've written about Swedish Death Cleaning in our blog before, and we were interested to see that there is a new TV show featured on Peacock titled "The Gentle Art of Swedish Death Cleaning" now featured in 2023. After all, it's about getting rid of junk…our favorite subject.
Inspired by the popular book of the same title by Margareta Magnusson, each of the current eight episodes features an organizer, designer and psychologist from Sweden who come to the United States to help subjects sort out their home and life, and confront their overabundance of stuff. Each subject is at a different stage in their life. Some are facing imminent mortality and don't want to burden their loved ones with all their "crap." Others want to lighten their emotional and physical burdens.
The shows are executive produced and narrated by comedienne and actress Amy Poehler, so you can expect they'll be entertaining. But they also talk seriously about death in a holistic way. The purpose of Swedish Death Cleaning is not to burden others with the items you have collected over a lifetime.
The Swedish Death Cleaning Team
Katarina is the psychologist who helps subjects look at their mortality and uncover why they are clinging to items that are no longer used or of value. Ella, the organizer, helps subjects go through their stuff to decide what is really important to keep, and what can be given away, donated or discarded. Johan is the young designer who transforms the homes after the junk is cleared out. It's fun to watch the owner's delight in the home's final reveal as each show ends.
What is Swedish Death Cleaning?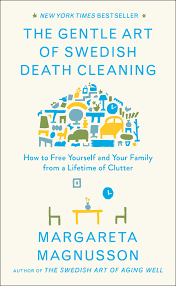 As the author of The Gentle Art of Swedish Death Cleaning: How to Free Yourself and Your Family from a Lifetime of Clutter Margaret Magnusson explains the concept of Swedish Death Cleaning as "a process to remove unnecessary things and make your home nice and orderly when you think the time is coming closer for you to leave the planet." It is meant to reduce the effort and time spent by loved ones to dispose of and disperse your belongings once you've passed away. Having fewer items to deal with help ease the burden placed upon those you leave behind.
She stresses that "it's not sad to death clean." Instead she promotes that you should only keep the items you enjoy and those that have meaning, and get rid of the rest.
Learn more in our previous post about Swedish Death Cleaning.
Partner with 123JUNK for your Swedish Death Cleaning Cleanout
When you decide that it's time to downsize or clean out items you no longer love, 123JUNK will be glad to help you get rid of them. With our 1-2-3 Process of Donate-Recycle-Dispose, we'll take your donations of items like furniture, working appliances and household goods and deliver them to our charity partners. We'll also look for items we can recycle, like electronics or paper and take them to the appropriate recycling center. Our last resort is the landfill. It's our way–and yours–of protecting our environment. All for convenient flat-fee pricing.
Contact 123JUNK at 1-800-364-5778 to schedule your pickup appointment today.