"Happiness is a direction, not a place."  –Sydney J. Harris
Here at 123JUNK, we'd like to introduce you to another fantastic team member: Becca Culver.
What is your role at 123JUNK?
As a Customer Success Representative, my role is to help customers who are looking to get a pickup scheduled. I help them understand how our company operates, how the pickup process will go, and I make sure their pickup goes smoothly.
How long have you worked there?
I started in November of 2021.
What did you do before working at 123JUNK?
I worked in a few different companies/fields. I've worked in Property Management, the car industry and the concierge industry as an account manager.
How did you hear about 123JUNK?
When I worked at my previous job, Dave Echeverria was the recruiter and recruited me to work there. (Dave is now the Director of Talent Acquisition at 123JUNK.) When I left that job, I reached out to Dave and was granted an interview.
What do you like best about 123JUNK?
The people. I'm fortunate enough to work with some really great people. Everyone loves their job and what they do. It is warm and welcoming, which makes coming to work pleasant. I also like talking to different people every day and helping them get their junk removal needs taken care of. I'm a big people person.
What three words best describe you?
Honest. Hard working. Enthusiastic.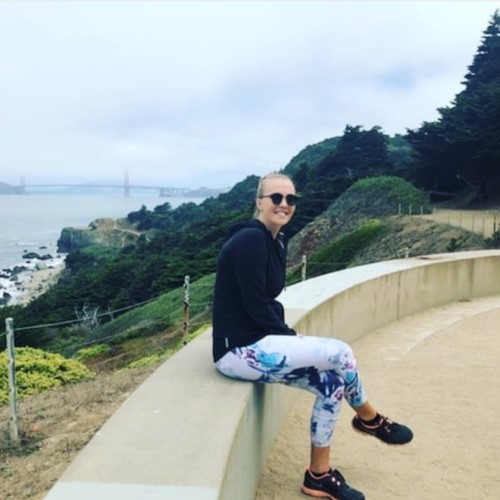 What is your background?
I was born and raised in Rockville, MD and since I still have family in the area, I hang out with them often. I have a BS degree in marketing from York College in Pennsylvania.
What do you like to do when you're not working?
I'm a big movie buff and like watching movies. I have two Siberian huskies and spend lots of time playing with and walking them. And I'm newly an aunt twice over and enjoy hanging out with my niece and nephew.
What's a fun fact about you?
I am ambidextrous!
Have you picked up any important lessons while working at 123JUNK?
I spend a difficult few days on the truck with the guys and that was eye opening. It definitely gave me respect for the truck staff. We had one day with a lot of really heavy items to pick up and it took a lot of trips. It was physically tiring. You learn what the truck staff has to deal with every day. It's not always just picking up sofas and pillows. You have to haul some pretty heavy things under not always the best conditions. I was fortunate enough to work with all the staff, who did their job with smiles on their faces and no complaints.
How did this experience affect the job you do now?
I learned to respect what the truck crew does—their schedule and what they have to take in. I am cognizant not to overload them with jobs or send them on back to back jobs with heavy items. I don't want them working 12 hours a day.
Do you have any advice for someone new to 123JUNK?
Learn as much as you can. And it's important to ask questions. Be open to feedback and be willing to take on new tasks. That way you can grow. I like to take on new challenges to see if it is something I can do, especially if I haven't done it before. It's an opportunity to learn.
At 123JUNK, we're always looking to hire great people!
If you'd like to work at 123JUNK, check out the "We're Hiring" section on our website. There you'll find job openings and descriptions for positions in Maryland, DC and Northern Virginia.
To schedule a junk hauling appointment in Northern VA, DC or MD, contact our team.