Every year, 123JUNK holds an in-house awards ceremony where team members are lauded, and sometimes teased, for their accomplishments throughout the year. Except for our Customer Choice Award, they are all nominated by their peers. Here are some of this year's 123JUNK awards winners recognized at our December 2022 holiday party! Click on their names to read more about them!
The Big 3 Awards
Some of our most important achievements either impact ourselves, our team or our customers. Here are the winners of our Big 3 Awards:
Gets Better with Time Award: Nick Williams
One of our newer team members, Nick Williams, has shown immeasurable growth throughout his time here at 123JUNK, and was recognized by his peers for his dedication to improvement and his drive to move up the junk haulers ladder.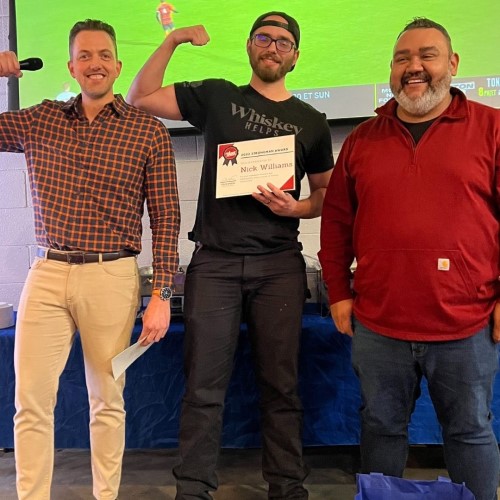 Personal Impact Award: Jesus Vializ
Jesus Vializ is one of our team players who thinks of others and always offers a hand. His positive attitude and team spirit elevates others and makes an impact on the team and the company.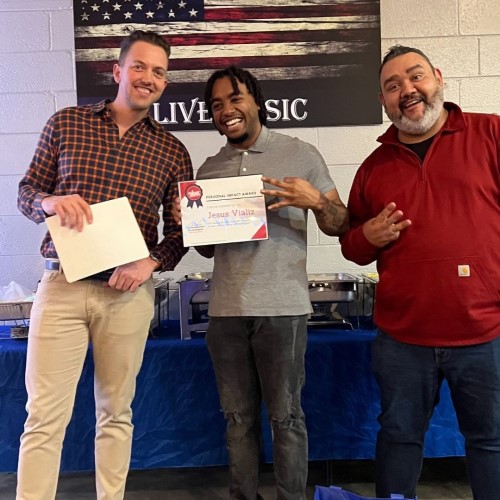 Culture of Excellence Award: tie between Paul Atherton and JJ Pedder
At 123JUNK, we set standards for our service and behaviors that we call our Culture of Excellence. It is posted on our walls and we review it regularly in our team meetings. This year we had a tie between Paul Atherton and JJ Pedder for their dedication to upholding and promoting the high standards for which we are known and loved.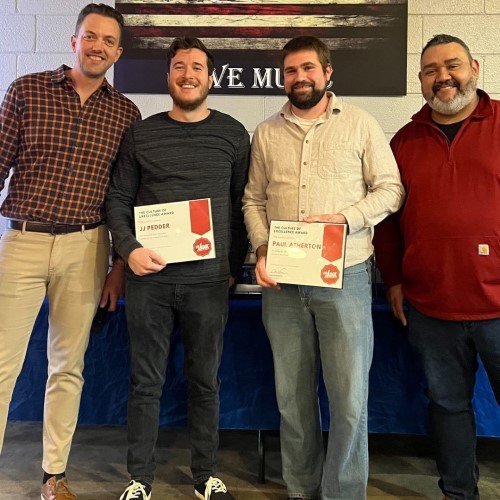 Other Awards Include:
Customer Choice Award: Kevin Wheeler
We ask our customers to name their favorite team member and this year they chose Kevin Wheeler as their winner. Kevin goes above and beyond to provide exceptional service in whatever capacity he is called to perform.
HA HA Funnyman Award: Jesus Vializ
It's important to have fun on the job, and nobody makes us laugh more than Jesus Vializ. Whether he's in the office or on the truck, you can count on him for a fun-filled day.
Speedy Gonzalez Award: Jeremiah Hankerson
Want the job done fast? Then call on Jeremiah Hankerson. No matter what we throw at him (not literally), he picks it up and runs with it. It could be a new skill or the speed with which he loads the truck. He's definitely a go-getter and the winner of this award for his second year in a row!
Strongman Award: Nick Williams
Hauling junk isn't for the weak…it sometimes takes strength of body and character to do the job well, and we recognize Nick Williams for his feats throughout 2022.
Jake the Junkman Award: Jesus Vializ
Jake is our mascot and the face of our company. And so is Jesus Vializ. We are proud that he represents 123JUNK in whatever capacity he does.
Knock Your Socks Off Award: Nick Williams
It's no accident that Nick Williams was the winner of several awards this year. His work ethic simply knocked the socks off of all of us!
MVP Award (Most Valuable Packer): Paul Atherton
Have you ever tried to solve a block puzzle? That's what it's like trying to figure out how to load one of our 123JUNK trucks! We separate out items for donation, recycling and disposal in the order that they are to be delivered to the appropriate location. We need to load efficiently. And since we charge clients by the volume their stuff takes in our trucks, we want to be fair to them. Paul Atherton's eye for packing earned him the award as our most valuable packer!
Salesperson Impact Player of the Year: JJ Pedder
JJ Pedder did a fabulous job explaining the value of 123JUNK to Realtors, companies, homeowners and anyone else who would listen, and helped us land numerous junk hauling jobs throughout the year. We certainly value his services! This is his second year in a row as winner of this award!
Related: Why team awards are important.
Congratulations to all our 123JUNK 2022 awards winners. We are proud of all our team members and look forward to seeing who will shine in 2023!
For Exceptional Junk Hauling in VA, DC or MD, Contact 123JUNK
If you'd like to experience 123JUNK's award-winning junk hauling services, and are in the Northern Virginia, Maryland or Washington DC area, contact us at 1-800-364-5778. We're the fastest-growing junk hauling company in our region!