"The greatest glory in living lives not in never failing, but rising every time we fall." – Nelson Mandela
We're always excited to introduce you to one of our new team members, and this one is no exception. Please meet Bryce McCown.
What is your role at 123JUNK?
I am on the business development team and my territory is Montgomery County, Maryland and parts of Washington DC. I spend a lot of time visiting different offices and networking events looking to connect with people who might benefit from 123JUNK's services.
How long have you been with 123JUNK?
I started this summer after graduation. They started me on the trucks and it was hot, hard work! I definitely have big respect for the people who work on the truck and do it every day.
What were you doing before joining 123JUNK?
I attended Hood College in Frederick, Maryland. I have a degree in International Finance and Economics. While in college, I played on the Lacrosse team.
How did you find this job?
I never saw this coming! Two of my Lacrosse teammates tested positive with COVID-19, and through contact tracing, I was notified and went into quarantine. I had lots of time on my hands and in surfing the Internet, came across the 123JUNK employment ad, applied, and they contacted me.
What is your favorite part of working at 123JUNK?
Every day is different. I'm not just sitting here watching the clock tick before I go home. I really enjoy what I do so it doesn't even feel like working.
What do you like best about working at 123JUNK?
I love the team. And what the company stands for.
Have you learned any important lessons?
Developing myself personally and professionally is my biggest learning lesson. I'm learning how to carry and present myself in a professional setting. It's often different than hanging out around people my own age. I'm learning something every day.
How would you describe yourself in three words?
Fun, creative and adventurous.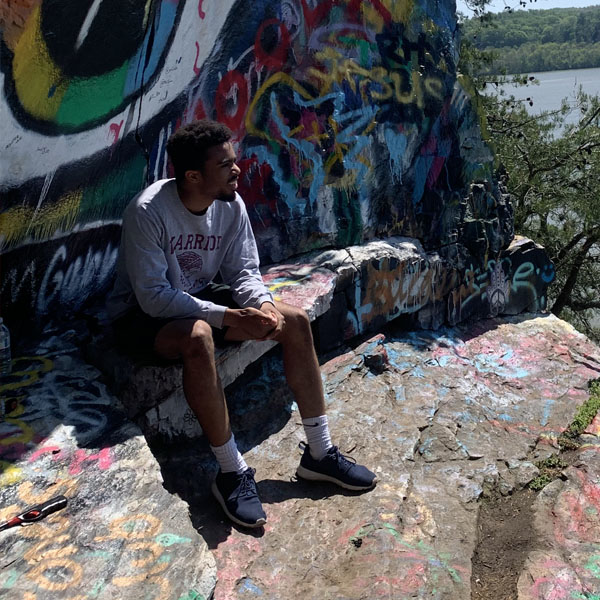 What do you like to do when you're not working?
Watching TikTok is probably my biggest pastime, and I like to play Xbox, watch Netflix, hang out with friends, go downtown, and play basketball. Occasionally I like to go hiking, but most of the time, I just go with the flow. I also like to travel. I try to go somewhere two times a year. My favorite place I've been is Puerto Rico. It's warm and I like the culture.
What advice would you offer to someone considering working at 123JUNK?
Definitely work here. It's a fun experience and you will learn a lot. There's a very supportive team, and every day is different—not like the typical job. You'll meet a lot of people and the job is constantly evolving, which keeps it interesting.
Do you have advice for someone who's just starting to work here?
Make mistakes at 100 mph. Your teammates will pick you up. Everybody is here to help.
Do you have a personal motto or mantra you live by?
Live life to the fullest because you never know when your last day is.
Want to Join our Junk Hauling Team in Northern VA, Maryland and Washington DC?
Our team is constantly growing, and we are looking for committed and talented candidates who can help customers with their junk hauling needs. Check our latest job openings, and apply!
Or contact us to schedule junk removal in Northern Virginia, Maryland or Washington, DC.